Getting into Git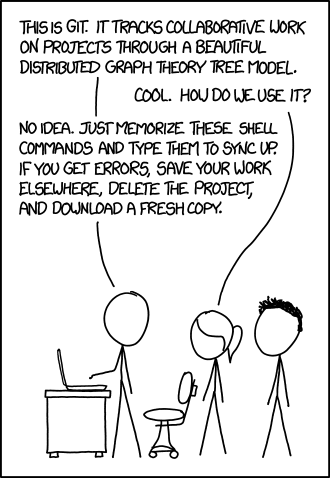 Aim
Get a mental model of how Git works.
Commits
Branches & tags
Your .git directory

              .git/HEAD
              .git/refs
              .git/objects
              .git/hooks
              .git/...
            
git/HEAD

              ref: refs/heads/master
            
git/refs

              $ cat .git/refs/remotes/origin/api-v-2.1.10
                9df05b942cbdd30fddfa5fb44c055cba4611052b
              $ cat .git/refs/heads/feature/4005-aclv2
                101c5284065e35abc30f5e0bf3ddfdf4c28f1cbd
            
Repositories
How commands map to Git internals
Common commands
git merge: fast forward
git merge: no-conflict / conflict
git rebase
Rebasing === rewriting history
Squashing commits
Rewriting commits as if they were created on top of a different branch
Never* rebase a branch used by others
Rebasing between branches
git revert
git cherry-pick
Problem-solving Git issues
Feature branch
We have a feature branch with several new commits.
It is behind the master branch.
We want to include these changes in master.
Backporting a commit
We have released our API and have a branch called api-v-2.0.0
A week after release, we have fixed an important bug in the master branch.
It contains multiple commits.
Feature-freeze
We have reached our feature freeze.
An important feature is not finished, but comitted to master.